It's a beautiful thing sometimes, living in Cambridge. I'm a stone's throw from some of the most amazing universities in the world, surrounded by people that make up the technological hub of the east coast and beset by social justice workers engineering a better society in one of the bluest places in the country.
Five years into my New England life, I'm getting a little antsy. I consider moving more often now, I try to piece together what life might be like for me in Reykjavik or Berlin - perhaps even back home in Chicago. Then I attend an event or lecture that reminds me of why I chose Cambridge in the first place. I've done the quick jaunts to Los Angeles and San Francisco. I'm a Midwestern woman with a childhood peppered with the Deep South where my familial roots are - and I chose to continue the migration by heading east to Cambridge to make my bones.
Cambridge has a magic all its own, a peculiar magic that's oft critiqued (and rightly so). This magic has the airs of talented tenth but also of accomplishment and aplomb (a gravitas of veritas, if you will). This magic has the regal comportment of a New England, lettered code that flies in the face of what many believe history and Black American culture in the United States to be.
I filed into Memorial Hall that day and could barely contain myself. Harvard's Hutchins Center was awarding eight dynamic individuals with esteemed Du Bois medals, and I knew that I had to be there. We all found our seats eventually and and erupted into roaring applause as the recipients took the stage.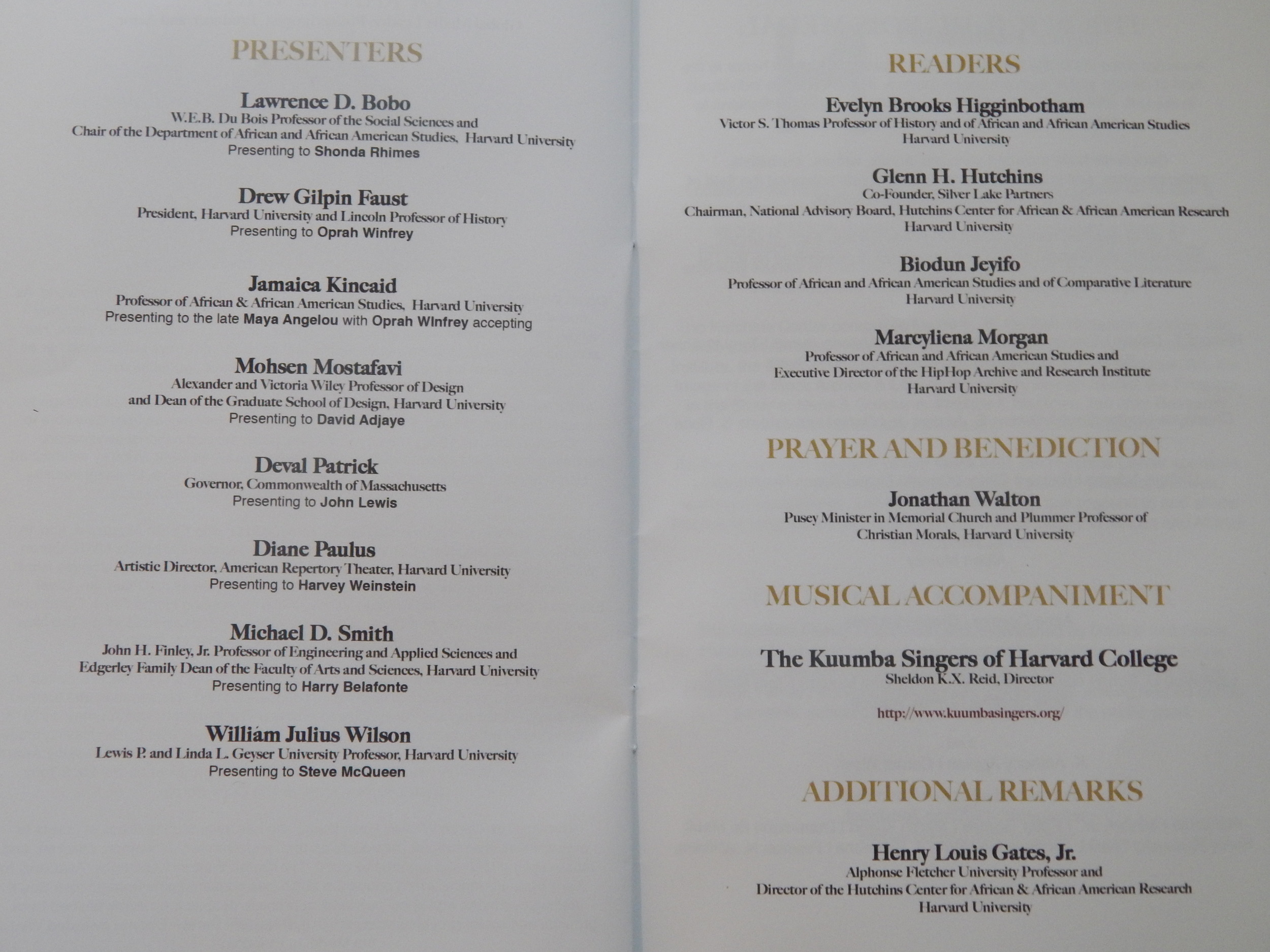 I sat there, both transfixed and feeling at home, sharing my hope, my language, and my cultural grief with hundreds of others. We grinned at Skip Gates' anecdote about his late father whose wit and comedic timing were so sharp he could "make Redd Foxx look like an undertaker". We rose together, hands over hearts, and sang Lift Ev'ry Voice and Sing* with the Kuumba Singers with an unparalleled conviction and pride. We marveled at the waymakers Harry Belafonte and John Lewis, who'd done so much heavy lifting in service of a higher standard for humanity, and cheered wildly as Shonda Rhimes volleyed a matter-of-fact declaration that to expect television to reflect the diversity of society is neither outlandish nor a revolutionary act.
We had cousins from across the pond, too. The architect David Adjaye designed the facade of the new Hutchins Center and the Ethelbert Cooper Gallery, and the brilliant Steve McQueen (of 12 Years a Slave) graciously accepted his medal for filmmaking. Harvey Weinstein and Oprah Winfrey accepted medals for their work in the production of some of the most iconic media of our cultural experience and memory, and were certainly not without their fun anecdotes.
Of all the recipients, I was most drawn in by the medal in honor of the late Maya Angelou. You see, Maya wrote about the vulnerability of Black women and girls in ways that saw and honored our humanity - she wrote about the freedom that grace provides and gave us language for expanding our capacity and freeing ourselves by extending grace to others. In a society content to fold people into corners of obscurity, shedding light becomes all the more important. When Maya reinterpreted "troubling a deaf heaven with bootless cries"**, she tapped into canonical language and put it in the mouths and hands of Black girls in the Deep South, Black girls who'd been left to navigate our shared society without the luxury of safety or the privilege of being seen and handled with care and on their own terms.
It's been said that when a poet dies, something in the national imagination perishes. I am, as are we all, a beneficiary of a sacred trust left for us by people who came before.
Moments like the Du Bois medal ceremony remind us of this. We convene to honor the talent of visionaries, we gather to pay our respects to waymakers whose unfettered limbs helped engineer a society better than the one that refused to go quietly, and lastly, we convene to accept our charge: to, like Du Bois admonished us all those years ago, be "coworkers in the kingdom of culture".
May we never hesitate or cease to go where we're called and carry that mantle.
*Lift Ev'ry Voice and Sing is the Negro / Black National Anthem
**from Shakespeare's Sonnet 29